News & Resources
Metabolomics Australia at the University of Queensland is part of a showcase event around the research capabilities of the University. The event is on September 20th. If you want to talk with a platform team members follow the link below to register for the event.
UQ Research Capability Showcase
---
MStractor: automated workflow for pre-processing metabolomics data (free download on GitHub)
Article by Dr Luca Nicolotti, Dr Natoiya Lloyd and Dr Markus Herderich
One of the challenges with metabolomics, and modern analytical profiling techniques in general, is that a single mass spectrometer coupled to a HPLC or GC provides gigabytes of data from hundreds of samples a day at a rate that exceeds what even experienced analysts can interrogate and interpret. To improve data processing efficiency and fast track identification of relevant metabolites, the AWRI-MA team has written MStractor as an open-source automated workflow in R to pre-process untargeted HPLC-MS metabolomics data.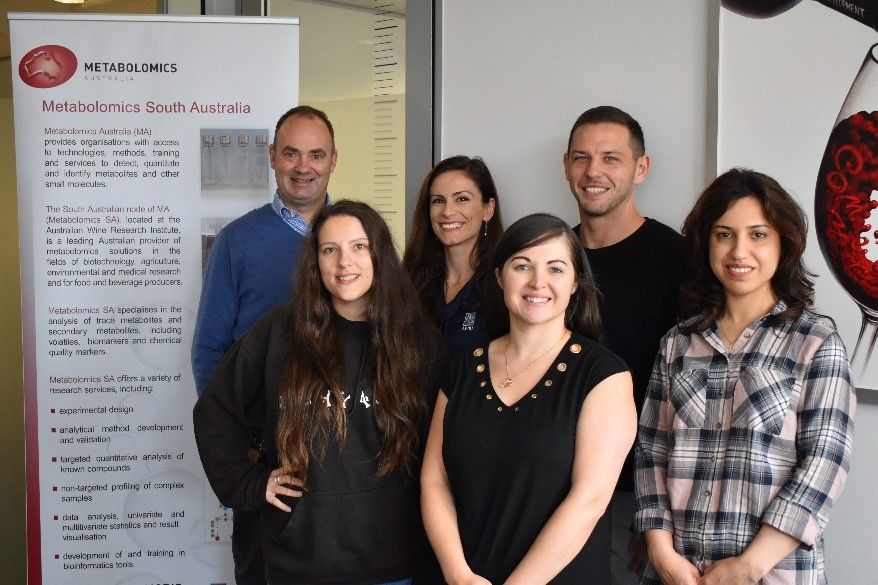 Left to right: Dr Markus Herderich, Amanda Ylia, Dr Vilma Hysenaj, Dr Natoiya Lloyd, Dr. Luca Nicolotti and Dr Maryam Taraji.
It combines tools such as XCMS and CAMERA to efficiently extract molecular features from complex and large mass spectrometry analytical data sets. It has been designed for use by non-programmers and advanced R users, requiring only minimal user input. The graphical QC outputs and parameterisation are key features that reduce processing errors.

MStractor was developed in-house at AWRI-MA. The workflow is free to download from the software development and sharing platform GitHub and a case study with an example metabolomics data set is available, https://github.com/MetabolomicsSA/MStractor.
Metabolomics Australia is a nationwide, Australian Government-funded initiative established to enable the development of, and access to, state-of-the-art metabolomics analysis, through investment in sophisticated infrastructure, method development and data analysis tools.
For more information contact the team on metabolomics@awri.com.au

---
Dr Natoiya Lloyd, Recipient of the Wine Australia Award
Read more of the fantastic work being done by Dr Natoiya Lloyd from the Metabolomics Australia node at the Australian Wine Research Institute. Can you smell the components in a glass of wine? Read more
http://www.agriculture.gov.au/abares/conferences-events/scienceawards/2017-award-recipients and
http://www.thewaite.org/waite-researchers-honoured-in-science-and-innovation-awards/
---
ABC Interview with Professor Ute Roessner
http://www.abc.net.au/news/rural/rural-news/2017-02-13/researchers-decode-quinoa-genome-allowing-them-to-learn/8258678
Plant able to grow for millenia in harsh environments
An international team of researchers has successfully mapped the entire quinoa genome, which will help breed varieties that could thrive on Australia's marginal cropping land.
"Quinoa is a highly nutritious grain, full of essential amino acids and a nice balance of lipids and proteins, low GI and gluten-free," she said.
The study published in the journal Nature was led by Australian scientist Mark Tester, of Saudi Arabia's King Abdullah University of Science and Technology (KAUST) and with a team of 33 researchers, from institutions around the world, produced a complete picture of the ancient plant's genome, are.
The University of Melbourne's Metabolomics Australia was tasked with finding whereabouts in the seed the bitter-tasting saponin compounds were located.
University of Melbourne's Professor Ute Roessner said the team was attracted to the plant because of its nutritional qualities and its ability to grow for millennia in some of the world's harshest environmental conditions.
With the genome sequenced, researchers can now start selective breeding programs with one of the first goals likely to be removing the saponin compounds from the seed.
---
Metabolomics 2017

The 13th International Conference of the Metabolomics Society will be from 25-29th June, 2017 at the Brisbane Conference and Exhibition Centre (BCEC) in Brisbane, Australia. The conference has the theme of Building Bridges and under this banner extends its reach to the systems biology / genome-scale modelling community, as well as to the analytical chemistry / natural products chemistry community. In addition, the program features thematic streams for advancing the field, for food and environmental metabolomics, and for health and wellness. Those of us in the Australia and New Zealand region rarely get the opportunity to have such a great conference on our doorstep so make sure to submit an abstract or apply for travel award at http://metabolomics2017.org/


---
If you a researcher working for an Australian end user organisation from industry or government, come talk with Metabolomics Australia around submitting an application for seed funding from Bioplatforms Australia for a collaborative project.
Contact the Business Manager Zofia Felton on zfelton@unimelb.edu.au
If you would like to speak with a local representative please contact:
Australian Wine Research Institue:
Contact: Dr. Natoiya Lloyd
Ph: +61 8 8313 6600
University of Melbourne
Prof Ute Roessner
Ph: +61 3 9035 3635
University of Queensland
Contact: Dr Esteban Marcellin
University of Western Australia
Contact: Ass Prof Michael Clarke
Ph: +61 8 6488 4457
Otherwise Contact Metabolomics Australia Business Manager:
Contact: Ms Zofia Felton
Ph: +61 3 8344 4099